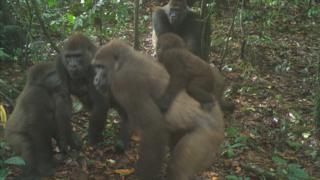 Photos have been released for the first time in years showing a group of rare gorillas in the mountains of southern Nigeria, conservationists say.
Only 300 Cross River gorillas are known to live in the wild, making them the most endangered sub-species.
But the Wildlife Conservation Society (WCS) says this sighting raises hopes that the animals at risk of extinction are actually reproducing.
A number of infant gorillas are visible in the shots taken earlier this year.