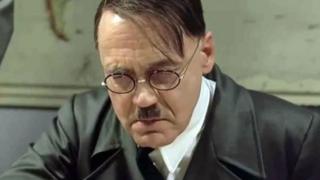 A BP refinery worker in Australia who was sacked for parodying the company via a well-known Hitler meme has been awarded a $200,000 (£109,000) payout.
Scott Tracey used the popular meme, from 2004 film Downfall, to portray scenes from company wage negotiations, posting it on a closed Facebook group.
He was sacked by the company. However, after a two-year legal battle, he won an unfair dismissal case and returned to work.
The payout covers lost earnings.
The meme uses a dramatic scene in Downfall – in which Hitler angrily confronts his generals in his bunker – and replaces the subtitles with alternative dialogue as a joke.
BP had said it was "highly offensive and inappropriate" and dismissed Mr Tracey. The refinery worker first took his case to a tribunal, arguing unfair dismissal, but lost.
Mr Tracey then app