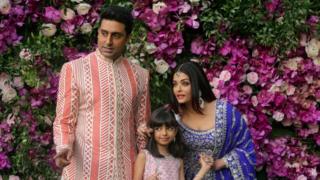 Three generations of a high-profile Bollywood family have tested positive for Covid-19, officials in the Indian state of Maharashtra say.
Results on Sunday showed the actress Aishwarya Rai Bachchan, a former Miss World, and her daughter Aaradhya, eight, were infected with coronavirus.
Her husband Abhishek and father-in-law Amitabh, both also actors, were taken to hospital on Saturday with the virus.
Both men were said to have mild symptoms.
Abhishek Bachchan tweeted that they would remain in hospital "till the doctors decide otherwise".
Aishwarya Bachchan, 46, is one of Bollywood's most famous faces both in India and abroad, featuring in several Bollywood and Hollywood films.
She won the Miss World pageant in 1994 and is Goodwill Ambassador for UNAIDS. In 2003 she was the first Indian actress to be a jury member at the Cannes Film Festival.
Aishwarya and her daughter are said to be asymptomatic.Her husband tweeted to say they would be self-isolating at home.
Outpouring of support
On Saturday Amitabh Bachchan told his millions of Twitter followers he had tested positive for Covid-19.
"I have tested Covid positive, shifted to hospital, hospital informing authorities, family and staff undergone tests, results awaited," he wrote.
Bachchan, 77, has been involved in 200 films over five decades.
He and Abhishek, 44, were taken to Nana