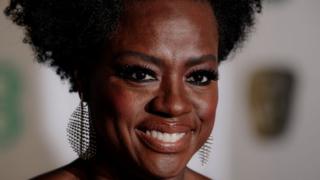 Viola Davis says she feels like she "betrayed myself and my people" in 2011 film The Help.
Set in 1960s Mississippi it was nominated for multiple Oscars but Viola says it was "created in the filter and the cesspool of systemic racism".
The film was "invested in the idea of what it means to be Black" but catered "to the white audience".
It has been one of Netflix's most-watched films since recent Black Lives Matter protests.
It's based on a 2009 book that has been accused of perpetuating a"white saviour" narrative– when black characters are marginalised for the benefit of a white hero who "saves" them.
Viola plays a maid who helps Emma Stone's journalist character expose racism in the community – and thisisn't the first timeshe's said she regrets the role.
"There's no one who's not entertained by The Help. But there's a part of me that feels like I betrayed myself, and my people, because I was in a movie that wasn't ready to [tell the whole truth],"Viola told Vanity Fair.
The Emmy, Oscar and Tony Award-winning actress – the first black actor to win the "Triple Crown of Acting" – says she took the role because she was hoping it would make her "pop".
"I was that journeyman actor, trying to get in."
Viola praised the film's white writer-director, Tate Taylor, and the majority-female cast that included Emma Stone, Bryce Dallas Howard, Jessica Chastain and Octavia Spencer, whose performance won her an Oscar for best supporting actress.
"I cannot