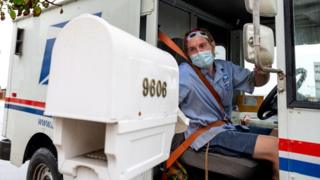 The US Postal Service (USPS) has warned one state that its election laws might mean that millions of mail-in votes go uncounted in November's election.
In a letter to Pennsylvania's top official overseeing the vote, the USPS said that a one-week turnaround for mail-in ballots may not be possible.
It comes amid a major slowdown in mail deliveries which critics say is due to policies enacted by a Trump appointee.
A record number of people are expected to vote by mail due to the pandemic.
Mr Trump has repeatedly said that mail-in ballots will give a boost to his rival Democrat Joe Biden, and lead to voting fraud. Experts say the mail-in voting system – which is used by the American military and by Mr Trump himself – is safe from tampering.
In a letter sent late last month, the USPS warned Pennsylvania's secretary of state that mail-in ballots requested one week before the 3 November election – which the state allows under its election laws – may not reach their destination on time because the state's deadlines are too tight for its "delivery standards".
U