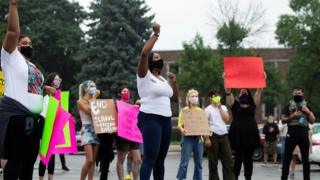 A judge in the US state of Michigan has ruled that a schoolgirl detained after neglecting her homework and fighting with her mother cannot be released.
The black 15-year-old, identified by her middle name "Grace", has been in juvenile detention since May.
"I miss my mom," Grace reportedly told the court on Monday. "I can control myself. I can be obedient."
But the judge said detention was in her best interests for now. The case has sparked protests and claims of racism.
Judge Mary Ellen Brennan said the teenager had been benefiting from a residential treatment programme and was not yet ready to return to her mother.
"There is not a question in my mind, if I were to grant the request to release you home today, I would be making a mistake, andI would be doing you a disservice," she told Grace, according to Michigan Radio.
Judge Brennan also said police had responded to multiple incidents between the mother and daughter, and that her detainment was a result of that.
"She was not detained because she didn't turn her homework in… She was detained because she was a threat to her mother," the judge said.
She also addressed the public scrutiny the ca