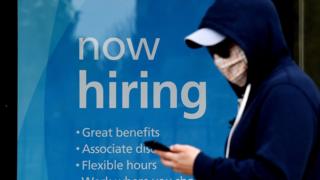 The number of Americans filing new claims for unemployment has dipped below 1 million for the first time since March.
About 963,000 people sought the benefits last week, down from nearly 1.2 million the week before, the Labor Department said.
The figures have been subsiding since peaking at 6.9 million in late March.
But they remain extremely high, driving debate in Washington over the need for further stimulus.
More than 28 million people – nearly one in five American workers – were still collecting benefits in the week ended 25 July, the Labor Department said.
Prior to the pandemic, the highest number of