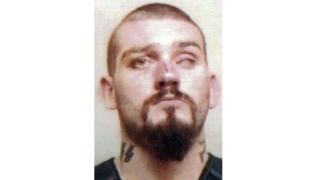 The first federal execution in the United States for more than 17 years is set to go ahead in Indiana on Monday following a ruling by an appeal court.
The execution of convicted murderer Daniel Lewis Lee had been blocked on Friday by a federal judge.
This came after relatives of the victims sought a delay, saying they feared attending in person could expose them to coronavirus.
But the government appealed and the injunction was overturned.
The 7th US Circuit Court of Appeal said no federal statute or regulation gave the victims the right to attend the execution.
The relatives are going to appeal to the Supreme Court.
Lee, a one-time white supremacist who tortured and killed a family of three before dumping their bodies in a lake, had originally been scheduled for execution in December. His case was delayed after the courts blocked the death sentence from being carried out.
Earlene Peterson, whose daughter, granddaughter and son-in-law were killed by Lee, has opposed the execution.
"It wo