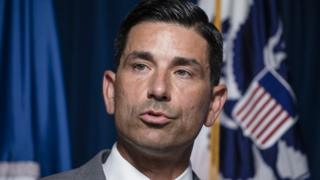 US Homeland Security Secretary Chad Wolf has said federal agents "will not retreat" in their efforts to protect government buildings in Portland.
"If you are a violent rioter looking to inflict damage to federal property or law enforcement officers, you need to find another line of work," he said.
US President Donald Trump sent federal agents to Portland in Oregon to end weeks of anti-racism protests there.
But the mayor of Portland has called for them to leave the US city.
There have been nightly protests against police brutality in Portland since the death of George Floyd, an unarmed black man, in Minnesota in May.
In recent days, however, violent clashes between demonstrators and federal law enforcement officers have escalated.
What did Chad Wolf say about the violence?
Speaking during a press conference on Tuesday, Mr Wolf said federal law enforcement officers in Portland were only targeting and arresting demonstrators who had been identified as being involved in "criminal activity".
He said the department respected the right of people to protest peacefully, but urged demonstrators to "please do so away from the violent activity taking place near the courthouse on a nightly basis".
On Monday evening, federal officers fired tear gas to disperse large crowds of protesters – some armed with hammers – who had gathered outside the city's courthouse and were throwing projectiles.
Mr Wolf also denied claims that the security officers had no identification and insisted they were wearing insignia showing they were police.