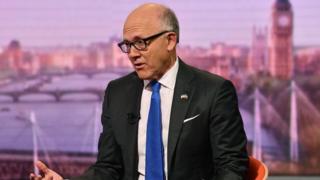 The US ambassador to the UK has denied reports he made "insensitive" remarks about race and gender to embassy staff.
CNN saidWoody Johnson had been investigated by US officials after making "generalisations about black men" and "cringeworthy" comments about women's looks.
But the diplomat tweeted that the claims were "totally inconsistent with my longstanding record and values".
Mr Johnson was named ambassador to the UK by President Donald Trump in 2017.
CNN also reported Mr Johnson had sought to promote the president's business interests in th