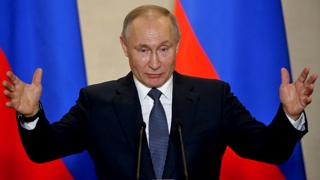 The UK government is accused of having "actively avoided" looking for Russian interference during the EU referendum.
The Intelligence and Security Committee'slong-awaited reportsaid the government was "playing catch-up", despite evidence of interference in the Scottish independence referendum.
The committee called for "immediate action" by government and intelligence agencies to tackle the threat.
The Russian Foreign Ministry called the report "Russophobia".
The UK government rejected the committee's call for a full assessment by intelligence agencies of potential Russian meddling in the 2016 referendum, saying it had "seen no evidence of successful interference".
And No 10 denied the claim it had "badly underestimated" the threat from Russia.
The ISC's inquiry covers a number of topics, including disinformation campaigns, cyber tactics and Russian expatriates in the UK – saying the UK was a "top Western intelligence target" for the state, only behind the United Nations and US.
But much of the "highly sensitive" detail was not be published due to fears Russia could use the evidence to threaten the UK.
'Hot potato'
The committee said Russian influence in the UK was now "the new normal" and the UK was "clearly a target" for disinformation campaigns around its elections.
But they said the issue was described as a "hot potato" – with no one organisation taking a lead to tackle it.
The report criticised intelligence agencies for not taking action during the EU referendum, despite there being "credible open source commentary" suggesting "influence campaigns" from the Russians during the Scottish independence referendum in 2014.
And it said the government only "belatedly realised the level of threat which Russia could pose" after the so-called "hack and leak" operation against the Democrats in the 2016 US election, calling it a "game changer".
The committee said: "Had the relevant parts of the intelligence community conducted a similar threat assessment prior to the [EU] referendum, it is inconceivable that they would not have reached the same conclusion as to Russian intent, which might then have led them to take action to protect the process."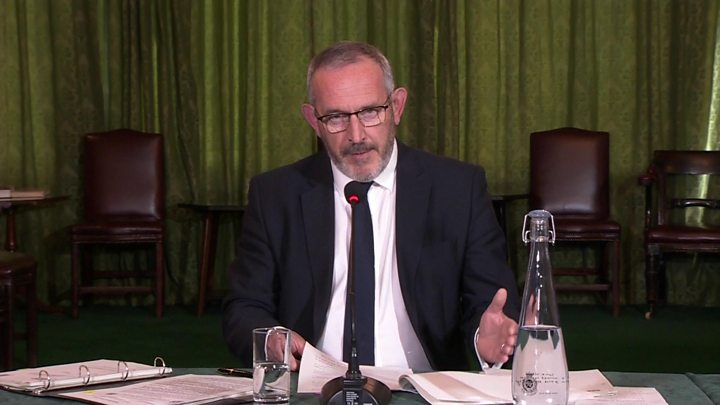 ISC committee member Stewart Hosie also said no-one in Government wanted to touch the issue of Russian interference with a "10-foot pole" and no-one knew if Russia had tried to interfere with the 2016 EU referendum "because they did not want to know".
Mr Hosie told reporters: "There should have been an assessment of Russian interference in the EU referendum and there must now be one, and the public must be told the results of that assessment."
Committee member Mr Jones also said the government had "let us down" by not looking into the accounts of interference with the Scottish referendum.
Committee places blame at government's door
This report may not be what some expected, but it is still damning.
Many expected the committee to have answered the questio