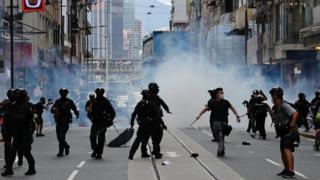 The UK will suspend its extradition treaty with Hong Kong "immediately and indefinitely", says Dominic Raab.
Announcing the move in the Commons, the foreign secretary said the UK "wants a positive relationship" with China.
But he said the "imposition" of the newnational security lawin Hong Kong by Bejing was a "serious violation" of the country's international obligations.
Labour said it would support changes to the law, calling it a "step in the right direction".
Mr Raab also confirmed the government would extend its arms embargo – which has been in place with China since 1989 – to Hong Kong