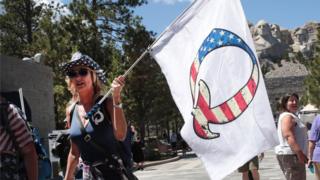 Twitter has announced sweeping measures aimed at cracking down on the QAnon conspiracy theory, including banning thousands of accounts.
The social media giant said it would also stop recommending content linked to QAnon and block URLs associated with it from being shared on the platform.
QAnon is a sprawling conspiracy theory whose followers support US President Donald Trump.
Twitter said it hoped the action would help to prevent "offline harm".
In a statement shared on the platform, Twitter said it would permanently suspend accounts that violate its policies while tweeting about QAnon.
The suspensions will be applied to accounts "engaged in violations of our multi-account policy, coordinating abuse around individual victims, or are attempting to evade a previ