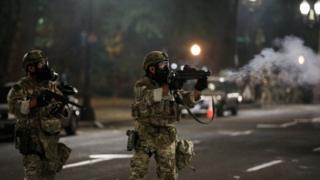 Tensions are mounting in the US city of Portland, where federal troops have been sent to end almost two months of anti-racism protests, some of them violent.
The protests began after the death of George Floyd in police custody in May.
There have been nightly rallies ever since, with clashes between protesters and police escalating in recent days.
President Donald Trump says he is trying to restore order. The approach has been criticised by local officials.
What has been going on in Portland?
Like other US cities, Portland, Oregon saw a wave of peaceful protests overFloyd's death in Minneapolis, with thousands taking to the streets to demand police reform and racial equality.
Recent protests, however, have been marred by violence, arson, damage to property, arrests and allegations of police brutality.
Last week, federal officers started cracking down on crowds gathering in the city against the wishes of state and local officials, drawing widespread criticism and legal challenges.
Federal officers in unmarked vehicles appeared to forcefully seize protesters from the streets and detain them without justification. They have also fired tear gas and less-lethal munitions into crowds of demonstrators.
Homeland Security Secretary Chad Wolf has called the protesters a "violent mob" and "anarchists".
But officials in the city have drawn a distinction between the peaceful majority and smaller groups of troublemakers.
Why are federal officers in Portland?
The troops, part of a new Department of Homeland Security unit, are made up of people from the US Marshals Service and Customs and Border Protection.
They have been deployed under an executive order protecting statuessigned by Mr Trump last monththat allows troops to be sent without the permission of the state.