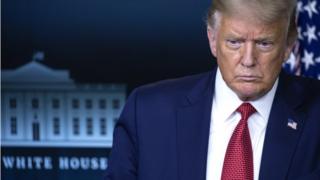 The US is weighing new rules that would temporarily bar US citizens and legal residents from entering the US to control a surge in coronavirus cases.
US media say the proposal would affect people suspected of having been exposed to or infected with the virus.
President Donald Trump has often touted his travel bans on foreigners as key to curbing the spread of the virus.
But US citizens and lawful residents have so far been exempt from travel restrictions regarding entering the US.
It is unclear whether the proposed measures will move forward.
What's in the draft proposal?
The draft memo,first reported by the New York Times, would seek to use public health powers to expand the administration's legal authority.
The proposed rule would affect all entry points, including airports and borders with Canada and Mexico, though it particularly references the virus outbreak in Mexico, according to the Times.
It notes that any order applying to US citizens and permanent residents should protect individuals' constitutional rights and would only apply in "the rarest of circumstances".
Is this legal?
The US Centers for Disease Control (CDC) has the power to detain and examine individuals travelling in and around the US if they are suspected of carrying certain diseases, like tuberculosis or Sars.
It is unclear whether this would legally allow the government to deny entry to citizens or residents, however, or how long they might be prohibited from returning.
The CDC and US Department of Homeland Security did not immediately respond to a request for comment from the BBC.
American Civil Liberties Union Immigrant Rights Project