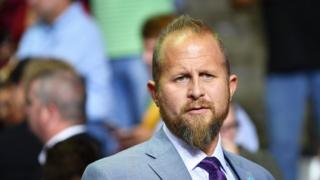 Facing a tough re-election campaign, US President Donald Trump has replaced his campaign manager.
Mr Trump said he had substituted Bill Stepien, a field director for his 2016 campaign, in place of Brad Parscale.
Mr Parscale – who was reportedly blamed by Mr Trump's inner circle for a poorly attended rally in Oklahoma last month – will stay on as senior adviser.
Opinion polls show the president is trailing his Democratic challenger Joe Biden ahead of November's election.
Mr Trump's statement on Facebook on Wednesday evening said: "Brad Parscale, who has been with me for a very long time and has led our tremendous digital and data strategies, will remain in that role, while being a Senior Advisor to the campaign."
Mr Parscale is said to have found himself sidelined in recent weeks after the president's comeback rally