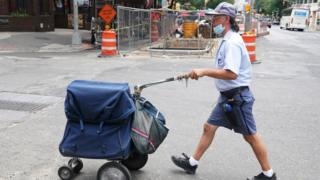 Universal mail voting would make the US "a laughing stock", President Donald Trump has said, as he continues his vocal opposition to postal voting.
It comes after the US Postal Service (USPS) warned that millions of mail-in votes may not arrive in time to be counted in November's election.
A record number of people are expected to vote by mail due to the pandemic.
Critics have blamed the new USPS head – a loyal supporter of President Donald Trump – for a slowdown in deliveries.
Democrats, including former President Barack Obama, have accused Mr Trump of attacking postal voting and the USPS in a bid to "undermine the election".
The president has repeatedly said mail-in ballots will lead to voting fraud and give a boost to his rival Democrat Joe Biden.
However, experts say the mail-in voting system, which Mr Trump himself uses, is safe from tampering.
Speaker Nancy Pelosi, meanwhile, is considering recalling Congress early to address the changes introduced to the USPS and the potential impact on the 3 November election, according to Reuters news agency.
Only a handful of states have so far said they will holding universal mail voting, meaning that voters will automatically receive a postal ballot ahead of the election – and a number of these did so before the pandemic.
Elsewhere, voters will still have to request to cast their vote by mail.
What did Trump say?
Speaking at a news conference on Saturday evening, the president said he had no issue with absentee voting, which he himself uses.
But he added: "Universal mail-in voting is going to be catastrophic, it's going to m