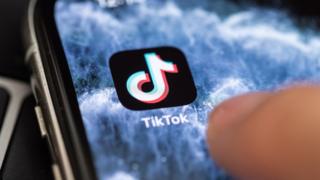 TikTok's plan to base its international HQ in the UK has been thrown into doubt following pressure by Washington over the Chinese firm's future in the US.
ByteDance, owner of the video sharing app, has had talks with the government about basing its HQ in London.
But the US is considering banning TikTok and may only allow it to keep operating if it splits from China and becomes an American company.
"We remain fully committed to investing in London," said a ByteDance spokesman.
A spokeswoman for the Department for International Trade said: "ByteDance's decision on the location of their global HQ is a commercial decision for the company."
It comes as tensions mount between the UK and China over the government's recent decision to order the removal of Huawei's 5G equipment from Britain's mobile networks by 2027.
There are fears it could prompt a tit-for-tat economic war between the two countries.
Chinese ambassador to the UK, Liu Xiaoming, told The Andrew Marr Show: "We are still evaluating the consequences. This is a very bad decision."
Asked whether China would punish UK companies operating in China, Mr Liu said: "We do not want to politicise the economy. That is wrong."
But he said: "It is wrong for the United Kingdom to discriminate [against a] Chinese company because of pressure from the United States."
'In the crosshairs'
The US has already implemented a number of sanctions against China's Huawei.
The Trump administration claims that the Chinese telecoms firm provides a gateway for the state to spy on and potentially attack countries that use its equipment.
Huawei strongly denies the claims.
George Magnus, research associate at University of Oxford China Centre, said it was "hard to predict" how the Chinese government would retaliate for the Huawei decision.
"But we expect British companies will be in the crosshairs of all of this," he said.
China is an important market for British business.
Jaguar Land Rover, which is owned by India's Tata Motors, sells its vehicles to China. Last month it borrowed £560m from five Chinese banks after sales dried up because of the coronavirus.
China is also a major investor in the UK, in particular the nuclear industry. China General Nuclear Power Corporation has invested around £3.6bn in the UK, including the Hinkley Point nuclear power project in Somerset.
Josh Hardie, deputy director general of the Confederation of British Industry, said: "Post-Covid, promoting trade will be an important plank of our recovery, so we must think c