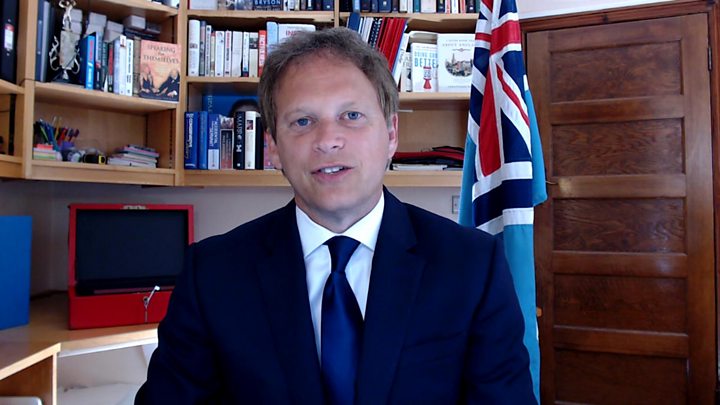 Thousands of holidaymakers are racing to return to the UK, with quarantine restrictions imposed on France coming into force from Saturday.
The 14-day isolation requirement from 04:00 BST also applies to people arriving from the Netherlands, Monaco, Malta, Turks and Caicos, and Aruba.
Extra ferry services have been added, but Eurotunnel trains are booked up and air travellers face steep prices.
France warned it would take "reciprocal measures".
The Netherlands willwarn against all but essential travel to the UKonce the restrictions come into force on Saturday, but it said it will not introduce reciprocal measures.
The countries were targeted for quarantine restrictions because their infections rates exceeded 20 per cases 100,000 people over seven days, Transport Secretary Grant Shapps said.
"We've worked so hard in this country to get our level of infections down, the last thing we want do is to have people returning and bringing the infection with them. It's to protect everybody," Mr Shapps told BBC Breakfast.
He said there are about 160,000 British holidaymakers currently in France.
The deadline left many of them in a frantic rush for plane, train or ferry tickets costing hundreds of pounds.
Tom Duffell, who runs a small business, cut short his holiday to Nice – with his wife and two children – by four days and booked a last minute flight home.
"We were enjoying a nice cocktail last night and suddenly a news flash pops in and a scramble to book flights," he said.
"We've had to spend about £800 because we can't afford to take another two weeks off work."
He added that social distancing had "gone out of the window" in the scramble for transport, with "huge queues" at the airport.
Stephanie Thiagharajah, who is French but lives in Kent, criticised the "manic" way the quarantine had been imposed after she spent a "really stressful evening" booking a train from Paris to London.
She said the move had created "a huge amount of people coming at the same time".
"It's probably more risky than staggering it," she added.
Eurotunnel said 12,000 people tried to book tickets for its Channel Tunnel trains in the hour after the new rules were announced at about 22:00 BST on Thursday – compared to just hundreds normally.
Its trains were fully booked on Friday, and the company haswarned people not to travel to its terminal without a confirmed booking.
Prices of some flights to the UK from Paris were more than £450, compared to £66 on Saturday. Many direct flights from the south of France are sold out.
The cheapest Eurostar tickets were £210, compared with £165 on Saturday.
P&O Ferries told the BBC it had increased its capacity on its Spirit class ships, but said passengers should still book in advance rather than just turn up at ports in France, the Netherlands or Belgium.
And DFDS Ferries said it had added an extra four departures from Calais to help Britons return in time. It said bookings must be made before arriving at port.
'We're packing frantically'
Scott and Tracy Cuthbert, from the village of Bloxham in Oxfordshire, say cutting their holiday in the Loire Valley short by six days was an "easy decision to make for us because we both need to work".
The couple and their daughter Milly, 1