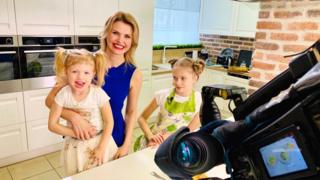 Belarusian state TV presenter Tatyana Borodkina is into cooking, not politics.
Each morning, on Breakfast for 3, she would prepare simple recipes helped out by her two young daughters.
But last week, she announced her resignation on Facebook, declaring that she could "no longer smile out from the TV screen" after what she was sure was a crudely rigged election.
She has since had to flee the country with her children, after receiving threats.
Tatyana is one of a growing number of state media employees to publicly announce their support for change, suggesting cracks in the information system – the propaganda machine – that for 26 years has helped keep President Alexander Lukashenko in power.
On Monday, staff at the state media service Belteleradio began walking off the job, declaring the 9 August election "illegitimate" and calling for an end to media censorship. Main channels, including Belarus 1, are now broadcasting repeats.
"I can't tell the viewers joyfully that 'tasty living is easy!' anymore," Tatyana told me this week, quoting her own TV catchphrase.
The popular STV presenter says when she wrote something similar on social media, an old acquaintance turned up at her home and threatened her.
"He started telling me what a wonderful country we live in and asking what I thought I was doing. He said he was warning me nicely, but that other people would come tomorrow," she explained from Ukraine, where she is now staying for safety.
She also received anonymous, threatening messages on her phone.
"They said they'd take my children if I went on talking," she says.
Other media figures, including some well-known journalists, have since announced their resignation, though few have dared discuss their motives openly. Most have limited themselves to announcing their "last working day" on social media, attracting thousands of "likes".
For Tatyana, the brutality of security forces against protesters was the breaking point.
"They're trying to terrify people, but the reverse is happening. No one will forget what went on," she says of the mass arrests and violent treatment of peaceful protesters.
She is emotional, admitting that she is struggling to sleep, horrified by messages from friends who have been detained and beaten.
"There's no way back. The people will not forgive this," she insists.
TV correspondent Yana Shyoko suffered sleepless nights too, when her husband Ivan Murayyov went missing. A freelance reporter, he was detained for filming at a protest on his mobile phone.
"It was a total violation of human rights," the STV journalis