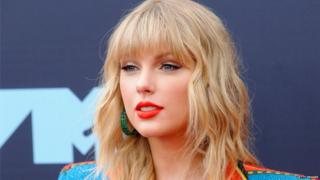 Singer Taylor Swift has donated £23,000 to a London-based student struggling to raise the funds to take up a maths course at the University of Warwick.
Vitoria Mario's online fundraising page details how she has lived in the UK for four years after moving from Portugal.
But she is not eligible for maintenance loans or grants.
Vitoria said: "I was worrying too much about the money, what I have to do and if I have to look for a job. She actually made my dream come true."
The American singer,whose 16 top 10 British chart hits include the aptly titled Wildest Dreams, wrote a message on Vitoria's fundraising page as she confirmed her donation.
At that stage, Vitoria had collected nearly half of her £40,000 fundraising target, and Swift wrote: "Vitoria, I came across your story online and am so inspired by your drive and dedication to turning your dreams into reality.
"I want to gift you the rest of your goal amount. Good luck with everything you do! Love, Taylor."