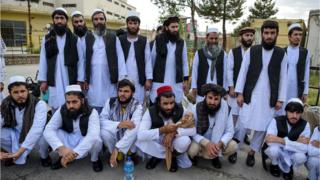 Afghanistan's government has started releasing the last 400 Taliban prisoners, paving the way for long-delayed peace talks.
Eighty prisoners were set free Thursday, officials said, some whose crimes include attacks on Afghans and foreigners.
The release was a condition to begin negotiations to end 19 years of conflict in the country.
Peace talks are expected to start in Qatar within days of the full release.
The release was "to speed up efforts for direct talks and a lasting, nationwide ceasefire", Afghanistan's Office of the National Security Council said in a Tweet.
On the weekend, an Afghan grand assembly of elders approved the release of the 400 Taliban prisoners accused of "major" crimes after authorities initially refused to free the milita