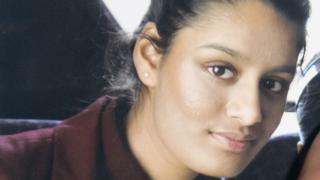 Shamima Begum should be allowed to return to the UK to fight the decision to remove her British citizenship, the Court of Appeal has ruled.
Ms Begum, now 20, was one of three schoolgirls who left London to join the Islamic State group in Syria in 2015.
Her citizenship was revoked by the Home Office on security grounds after she was found in a refugee camp in 2019.
The Court of Appeal saidshe had been denied a fair hearing because she could not make her case from the Syrian camp.
The Home Office said the decision was "very disappointing" and it would "apply for permission to appeal".
The ruling means the government must now find a way to allow the 20-year-old, who is currently in Camp Roj in northern Syria, to appear in court in London despite repeatedly saying it would not assist removing her from Syria.
Lord Justice Flaux – sitting with Lady Justice King and Lord Justice Singh – said: "Fairness and justice must, on the facts of this case, outweigh the national security concerns, so that the leave to enter appeals should be allowed."
The judge also said that the national security concerns about her "could be addressed and managed if she returns to the United Kingdom".
Former Home Secretary Sajid Javid, whomade the decision to strip Ms Begum of her citizenshipin February 2019,tweeted a statementsaying he was "deeply concerned about the judgement".
He said that regardless of the outcome of her case, if Ms Begum came to the UK "it will prove impossible to subsequently remove her".
Begum 'not afraid of facing justice'
Daniel Furner, Ms Begum's solicitor, said: "Ms Begum has never had a fair opportunity to give her side of the story.
"She is not afraid of facing British justice, she welcomes it. But the stripping of her citizenship without a chance to clear her name is not justice, it is the opposite."
Her father Ahmed Ali told the BBC he was "delighted" by the ruling, adding that he hoped his daughter would get "justice".
The prime minister's official spokesman said that while the government "doesn't routinely comment on individual cases", the decisions it made about Ms Begum had not been "taken lightly".
He said the government would "always ensure the safety and security of the UK and will not allow anything to jeopardise this".