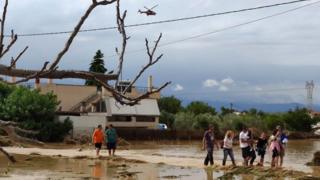 At least five people have been killed in flooding caused by thunderstorms and torrential rains on the Greek island of Evia.
Officials said victims included an eight-month-old baby and two people in their 80s. Rescuers found their bodies in houses in the village of Politika.
Search efforts are continuing for two other people reported missing.
The flooding has blocked roads and damaged houses on the island, north-east of Athens.
Officials said the baby died after floodwaters submerged a ground-floor flat. The parents were unharmed.
Hours earlier, a man and woman i