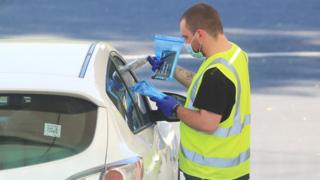 Public Health England is to be replaced by a new agency that will specifically deal with protecting the country from pandemics, according to a report.
The Sunday Telegraph claimsHealth Secretary Matt Hancock will this week announce a new body modelled on Germany's Robert Koch Institute.
Ministers have reportedly been unhappy with the way PHE has responded to the coronavirus crisis.
The government was contacted by the BBC but declined to comment on the report.
A Department of Health and Social Care spokesperson said: "Public Health England have played an integral role in our national response to this unprecedented global pandemic.
"We have always been clear that we must learn the right lessons from this crisis to ensure that we are in the strongest possible position, both as we continue to deal with Covid-19 and to respond to any future public health threat."
The Telegraph reports that Mr Hancock will merge theNHS Test and Trace schemewith the pandemic response work of PHE.
The paper said the new body could be called the National Institute for Health Protection and would become "effective" in September, but the change would not be fully completed until the spring.
The Robert Koch Institute,which the new body will reportedly be based on, is an independent agency that has taken control of Germany's response to the pandemic.
Earlier this month, the government brought in a new way of counting daily coronavirus deaths in Englandfollowing concerns that the method used by PHE overstated them.
Prime Minister Boris Johnson has also said the country's response to Covid-19 could have been done "differently" and the government needed to learn lessons.
There has been talk in the air at Westminster for a while about a major shake-up or even axing of Public Health England.
Blame for the controversial decision to halt community coronavir