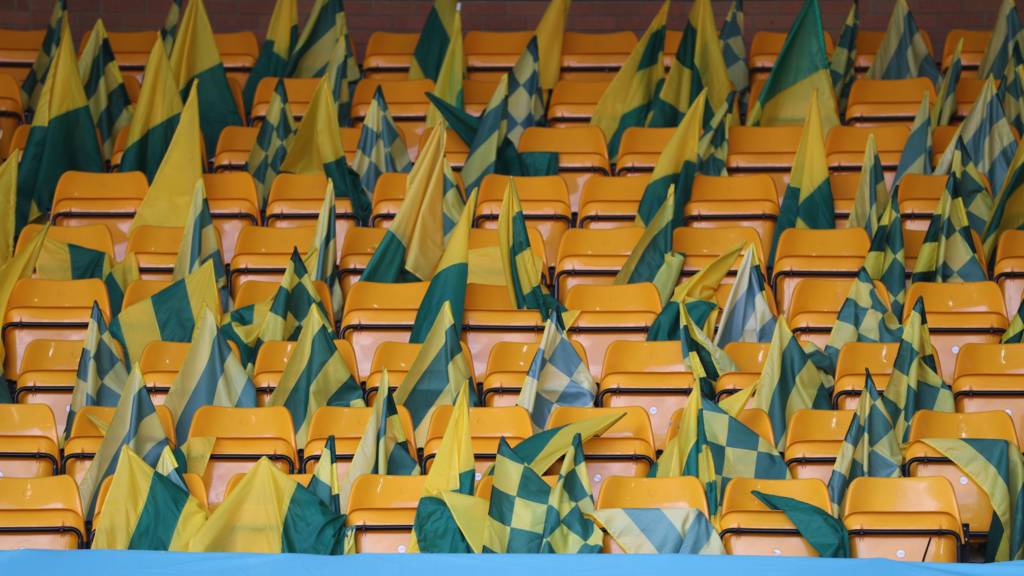 Got a TV Licence?
You need one to watch live TV on any channel or device, and BBC programmes on iPlayer. It's the law.
Live Reporting
Emlyn Begley
All times stated are UK
Could Pope win golden glove?

Norwich v Burnley (17:30 BST)

Burnley goalkeeper Nick Pope is in the running to win the Premier League's golden glove award for most clean sheets.

Both he and Ederson have kept 14. Dean Henderson, Allison and Kasper Schmeichel are on 13 each.

Norwich's Emiliano Buendía seemed to hurt his right knee in the warm-up. He's trying to run it off after getting treatment.

'Not taking this lightly'

Norwich v Burnley (17:30 BST)

Burnley

Burnley boss Sean Dyche speaking to Sky Sports: "We're really pleased. The mentality has been superb. We know we'll have to show all the qualities we have been doing again today.

"Nick Pope's continuing to develop his all-round game and not just stopping the ball going in the net. There's people in front of him defending well.

"We are certainly not taking this lightly and the players are ready for whatever faces us today."

Unwanted landmarks for Norwich

Norwich v Burnley (17:30 BST)

Norwich will end this season bottom, the first time they have finished last in a top-flight campaign since 1973-74.

The Canaries have failed to score in a league-high 18 games this season, including 10 of the past 12.

Norwich have lost their previous four top-flight home matches, conceding nine unanswered goals.

They could become the first top-flight side to lose five consecutive home matches without scoring since Birmingham City in 1922.

The full-time whistles are going in the Championship.

Hull are all but relegated, while Fulham's promotion dream stays alive.

First top-flight meeting in Norwich since 1976

Norwich v Burnley (17:30 BST)

Burnley are winless in four games at Carrow Road since a 4-1 triumph in the Championship in October 2006 (D2, L2).

Norwich last hosted Burnley in the top flight in January 1976, winning 3-1.

'Next time we will try to stay for longer'

Norwich v Burnley (17:30 BST)

Norwich boss Daniel Farke:"Burnley have shown so much consistency and resilience with one loss in 14 games, so it won't be easy.

"It's important to be ourselves. Our ideas are different and we want to play on the front foot.

"They are role models for going down and coming back up. I'm full of praise for Sean's work. They proved you can come back stronger. Jurgen Klopp was promoted with Mainz, then got relegated, but now look where he and they are.

"Next time we will try to be better prepared and stay for longer."

Post update

Norwich v Burnley (17:30 BST)

Burnley manager Sean Dyche:"Norwich have had a tough time this season, but it doesn't make them a bad side.

"It just makes them a side which has been trying to learn and trying to find a way through the Premier League.

"It's very tough. Having been through it when we went down and then came back up, it's very tough.

"So we don't take anything for granted. We know we are going to have to earn the right once again and we're going to have to do that by playing well."

What happened in the last round of games?

Norwich v Burnley (17:30 BST)

Norwich lost 1-0 at Chelsea on Tuesday, while Burnley claimed a dramatic 1-1 draw against Wolves the next day.

You can watch highlights of that Burnley game below (if you're in the UK).

Video content

Video caption: Highlights: Burnley 1-1 Wolves

Post update

Norwich v Burnley (17:30 BST)

Post update

Norwich v Burnley (17:30 BST)

Burnley striker Chris Wood scored both goals in their 2-0 win over Norwich earlier this season.

.Copyright: .

Team news – Buendia starts

Norwich v Burnley (17:30 BST)

There is just one change to the Norwich side who suffered a 1-0 defeat to Chelsea last Tuesday.

Emiliano Buendia starts in place of Lukas Rupp, who drops to the bench.

Norwich XI: Krul, Aarons, Godfrey, Hernandez, Lewis, Cantwell, Klose, Buendia, Drmic, McLean, Tettey

BBC SportCopyright: BBC Sport

Sean Dyche also makes just the one change to the Burnley side who drew 1-1 with Wolves on Wednesday.

Johann Gudmundsson comes in for the injured Charlie Taylor. Jay Rodriguez has recovered from a tight calf to start.

Burnley XI: Pope, Tarkowsk, Gudmundsson, Brownhill, Wood, McNeil, Westwood, Rodriguez, Pieters, Bardsley, Long

BBC SportCopyright: BBC Sport

Post update

Norwich v Burnley (17:30 BST)

Almost time for the line-ups. Excited?

Can Burnley reach Europe?

Norwich v Burnley (17:30 BST)

Burnley could still qualify for Europe in theory. But they need to win both games and hope teams above them all drop points.

Only the top six will definitely qualify, with seventh spot depending on who wins the FA Cup.

Read other European permutations here.

.Copyright: .

What now for Dyche and Burnley?

Norwich v Burnley (17:30 BST)

.Copyright: .

Could Sean Dyche's time as Burnley boss be coming to an end? My colleague Simon Stone has been trying to answer that very question.

Early team news

Norwich v Burnley (17:30 BST)

Norwich are still missing injured trio Sam Byram, Grant Hanley and Moritz Leitner.

Christoph Zimmermann is back in training and could be fit enough for a place on the bench.

Burnley remain without Ashley Barnes, Ben Mee, Matt Lowton and Jack Cork, while Charlie Taylor will not feature after injuring his hamstring against Wolves.

Jay Rodriguez came off with a tight calf in that game but should be fit.

We will have the line-ups at 16:30 BST.

Post update

Norwich v Burnley (17:30 BST)

Great news just in before Saturday's only Premier League game…

Today is the penultimate day of the Championship. At the moment Fulham are winning, which would set up a three-way tussle on the final day for a Premier League spot with West Brom and Brentford.

This is the only Premier League game on today.

Arsenal play Manchester City in the FA Cup semi-final at 19:45 BST.