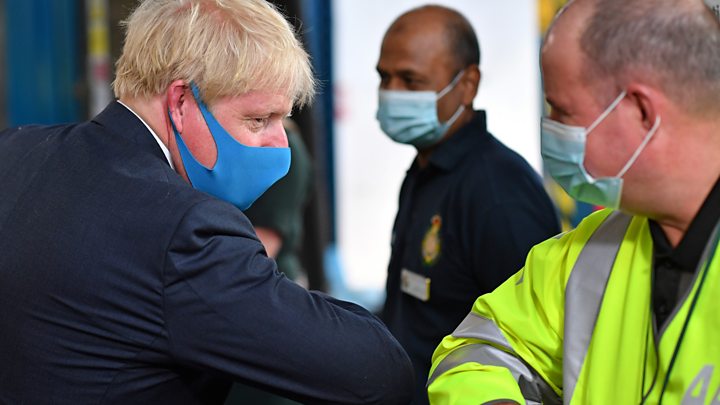 Boris Johnson has said people in England "should be wearing" face masks or other coverings inside shops to help prevent the spread of coronavirus.
The prime minister said the government would decide in the next few days if "tools of enforcement" were needed.
The comments follow cabinet minister Michael Gove telling the BBC on Sunday that face coverings should not become mandatory in shops in England.
Labour has demanded "urgent clarity" from the government on the issue.
And the boss of Waterstones bookstores, James Daunt, said it "would not be right" to ask shop workers to "police" any new policy.
Face coverings are worn to help prevent wearers spreading coronavirus, rather than catching it.
Currently, they are compulsory on public transport in England, Scotland and Northern Ireland – and the Welsh government has announced it will enforce the same measure from 27 July.
In Scotland, coverings are also mandatory in shops, but not elsewhere in the UK – and critics have complained that the situation in England needs to be made easier for the public to understand.
Analysis by Helen Catt, political correspondent
The signs seem to point towards the government making face masks compulsory in more places in England, but ministers appear reluctant to commit just yet.
Michael Gove's preference for trying to encourage people to take action voluntarily – rather than through fear of enforcement – is one we've seen the government repeat throughout the pandemic.
But the risk that comes with it is of mixed messaging. Earlier, when coronavirus was more widespread, it said the scientific evidence for mask-wearing was not clear enough. Now, it says, the evidence is stronger.
Of course, the scientific understanding of the virus is constantly developing, and so policy is likely to as well.
If the government does now think masks are the way forward though, communicating that message without confusi