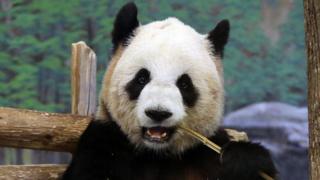 Two giant pandas are stranded in Canada with a looming bamboo shortage despite efforts to return them to China.
The Calgary Zoo says it has not yet been able to secure international travel permits to relocate Er Shun and Da Mao.
Pandas only eat fresh bamboo that the zoo had been importing from China, but coronavirus grounded most flights.
Since then, the zoo has been relying on trucking in a limited Canadian bamboo supply.
In May, the Calgary Zoo announced it would relocate the two animals back to China, where bamboo is local and in abundant supply.
But this week it said that, despite working with both the Canadian and Chinese governments, China has not approved international permits due to p