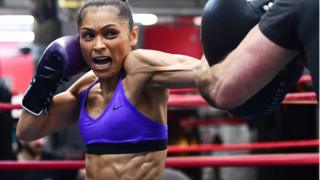 Some of New York City's most iconic boxing gyms have been forced to close because of the coronavirus pandemic, and with no official guidance on how they can reopen, many gym owners fear the city will forever lose this sporting legacy, writes Ben Wyatt.
Former featherweight champion Heather 'The Heat' Hardy stands on a Brooklyn street corner dressed in workout gear.
She has boxing mitts in her hands and a pair of gloves around her neck. As masked pedestrians walk along the sidewalk she tries to persuade them to join an impromptu training session on the sunshine-baked tarmac.
Boxing has always been a tough career, but at the age of 38, and as a single mother of a 16-year-old daughter, the streets that forged Hardy are now proving her only refuge.
Like all journeyed fighters, she talks a good game: "In New York City we work paycheque to paycheque, you know.
"I was born and raised in Brooklyn. I always figure out a way. I'll get through this too."
But her optimism belies the fact that her neighbourhood gym of Gleason's – a cultural and pugilistic icon of the city that's also the source of Hardy's private training income, her big-fight coaching team and her closest friends – has been closed by the state since March with no pathway to reopening.
"You miss the jokes," she says of her fellow fighters, who before the pandemic trained and taught in the gym up to 12 hours a day, six days a week.
Other opportunities have been missed too. The two fights Hardy had booked for this year, one of which was a title shot, were cancelled as the outbreak gathered pace.
Without savings to spend or workout classes to supplement her income, Hardy's street hustle is her best hope.
It's a far cry from her last fight at Madison Square Garden, where she suffered the first defeat of a gutsy 23-fight career, losing to interim world champion and fellow Brooklynite Amanda Serrano in an internationally televised match.
Fights overseas are returning, but without access to her coaches or a ring she will be forced to consider bouts for which she'll be dangerously underprepared.
Hardy's story personifies the plight of pro boxing in the Empire City in 2020.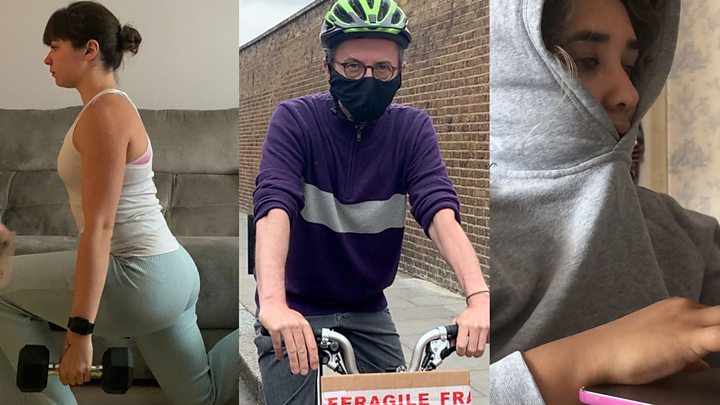 Madison Square Garden's position as the sport's first mecca made New York an epicentre for the sweet science in years gone by, but from a heyday-high in the 1920s there's been a steady decline with each passing decade.
Of the 25 professional gyms that existed across the five boroughs in the 1970s, only a handful remain.
These glitz-free, idiomatic churches of sweat and sparring – where age-old ring knowledge nurtured colossi such as Sugar Ray Robinson, Jake LaMotta and Riddick Bowe – were already on shaky legs prior to lockdown.
Their enforced closure, without an end in sight or mention in the state's phased reopening measures, means they are all now on the precipice.
Bruce Silverglade, the former president of amateur boxing in New York and owner of Gleason's for 37 years, argues that at a time of their greatest need, boxing is being discriminated against by politicians choosing to look the other way.
He's watched other professional sports franchises such at the NBA, Major League Soccer and Major League Baseball receive government guidelines on how to train and eventually resume play, while boxing has been left in the dark.
In boxing, where individuals have no leagues, federations or expensive attorneys to speak on their behalf, Silverglade argues the fighters of the city should be allowed to resume behind-closed-doors training at the very least. It's a lifeline that could prevent the extinction of the culture and its gladiators.
"If the governor or the CDC [Centers for Disease Control and Prevention] were to give me directions, I'd adhere to them," says Silverglade.
"I have no idea when I can reopen, why I'm closed, or when I can earn a living again. Gyms in other states are open. List your objections, so I can take care of them."
Originally based just one block from Madison Square Garden, Gleason's moved to Brooklyn in 1987, schooling local talent such as the young Mike Tyson in the process.
As the USA's oldest boxing gym, it's welcomed everyone from Muhammad Ali to Paul Malignaggi, and there were times in the 80s when all five of its rings would creak from the sparring of world champions.
The clientele slowly evolved, with hobbyists accounting for 85% of members by the turn of 2020. Up until March, this income flow supported 92 trainers and eight staff. Now, most of the coaches are surviving on unemployment benefits.
"Today, I made 40 bucks selling two t-shirts. Last week I made 120 bucks selling a pair of gloves," Silverglade says of his earnings from the last month.
"I've still got to pay rent and insurance and I've spent thousands on PPE equipment."
Worryingly, Gleason's is faring better than most in lockdown. The Fight Factory gym, located near the boardwalks of Coney Island and Brighton Beach, closed at the end of June after 11 years in business.
Former soldier