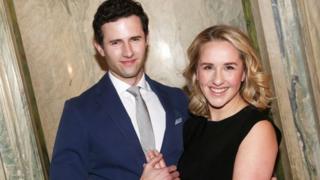 Diana the musical will be streamed on Netflix next year before it makes its official Broadway debut.
This is an unprecedented move for the entertainment industry which is dealing with coronavirus restrictions.
Broadway theatres remain closed during the pandemic and may not reopen this year, according to experts.
The musical, based on the life story of Princess Diana, is now not scheduled to open on Broadway until 25 May next year.
A filmed version of the musical, featuring the original Broadway cast, will be made without an audience in New York. Neftlix hasn't given a date for when this will be streamed on its site.
"Though there is no substitute for the live theatre, we are honoured to be a part of the quality entertainment that Netflix provides its subscribers worldwide," the prod