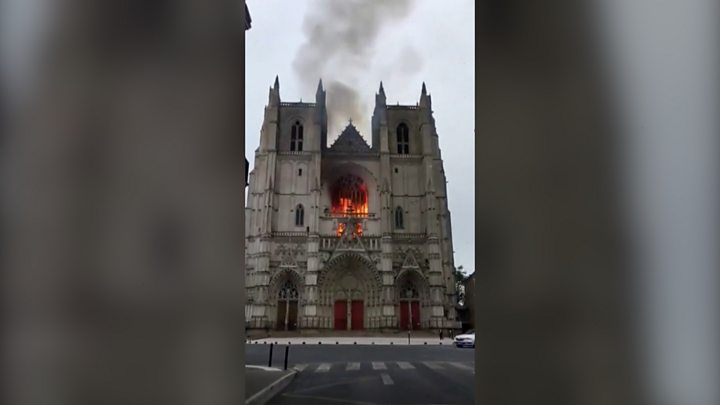 A volunteer at the Saint-Pierre-et-Saint-Paul cathedral in Nantes has been detained after a fire tore through the building, officials say.
The Rwandan refugee was in charge of locking up the day before the blaze destroyed stained glass windows and the grand organ inside.
A lawyer for the man said there was "nothing to link" him to the fire.
Prosecutors said they wanted to clear up inconsistencies and that it would be "premature" to think he had a role.
"We must remain careful as to the interpretation of this police custody. It's a normal procedure," public prosecutor Pierres Sennès said. The volunteer has not been named.
Mr Sennès saidthe fire is believed to have been arson. Three fires were started at the site and an investigation is now under way.
Quentin Chabert, the lawyer for the refugee, said there was "nothing at this stage to link my client to the fire" and that the investigation must go on "with respect for everyone's righ