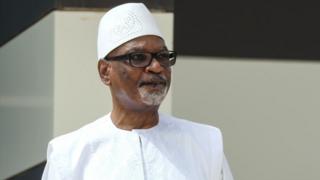 Mali President Ibrahim Boubacar Keita has announced the dissolution of the constitutional court in an attempt to calm unrest that saw four people killed in street protests on Friday.
The president said he said would not tolerate such violence.
The court has been at the centre of controversy after it overturned provisional results for parliamentary elections in March.
There are growing calls for President Keita to resign.
Opponents are unhappy with his handling of Mali's long-running jihadist conflict, an economic crisis and the disputed elections.
A new opposition coalition led by the conservative Imam, Mahmoud Dicko, has been insisting on further reforms after rejecting earlier concessions from the Malian president including the formation of a unity government.
What's the latest in Mali?
"I have decided to repeal the licences of the remaining members of the constitutional court," the president said in an evening television address on Saturday.
"This de facto dissolution of the court will enable us, from next week, to ask relevant authorities to nominate new members so that the reformed court can quickly help us find solutions to the disputes arising from the legislative elections," he added.