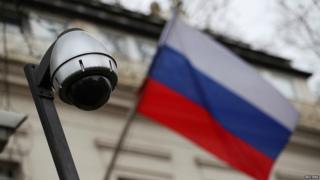 It has been a long time coming but the British public are finally about to see the details of the "Russia report".
Nearly a year-and-a-half after it was completed, the report will be published by Parliament's Intelligence and Security Committee on Tuesday morning.
It is expected to provide an overview of the threat Russia poses to the UK and what has been done to counter it.
It comes after allegations of Russian interference in last year's election, which the Kremlin has said are false.
The report, due to be published at 10:30 BST, is based on secret intelligence material from the UK's spy agencies as well as contributions from independent experts.
It is expected to detail the scale of Russian espionage and subversion against the UK and its allies.
As well as traditional spying and cyber-espionage, it is also expected to explore Russia's willingness to pursue its enemies abroad, including by killing them.
The poisoning with nerve agent of Sergei Skripal in Salisbury in 2018 is one of only a number of recent cases in the UK and across Europe linked to Moscow.
Did Russia meddle in Brexit and Scottish referendums?
The report's analysis of Russian interference in the UK political process is likely to be the most closely read aspect.
Operations by Moscow's spy agencies played a significant role in America's 2016 presidential election, and questions have long been raised as to whether there were similar activities in the UK around the 2014 Scottish independence referendum and the 2016 Brexit referendum.
Last week the UK government said they believed Russian actors had tried to meddle in the 2019 general election but this was after the report was finished.
Some media campaigns linked to Russia in previous political events have already been identified and a harder question to answer may be whether there was any significant impact.
Was the UK's response too weak?