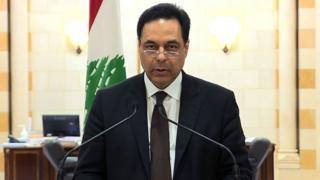 Lebanon's government has resigned amid mounting anger over the explosion on Tuesday that devastated parts of Beirut and left more than 200 people dead.
The announcement was made in a national TV address by Prime Minister Hassan Diab on Monday evening.
Many people have accused the country's leaders of culpability through their alleged negligence and corruption.
Protesters have taken to the streets and clashed with police for a third straight day.
The massive blast was caused by the detonation of 2,750 tonnes of ammonium nitrate stored unsafely at the port for years.
On Monday the death toll from the explosion rose to 220 with 110 people still missing, Beirut city governor Marwan Abboud was quoted by the al-Marsad Online news website as saying.
Many foreign workers and lorry drivers were among the missing, he told Al Jadeed TV channel.
The huge blast damaged buildings in a radius of several kilometres in Beirut, leaving more than 200,000 homeless or living in homes with no windows or doors.
O