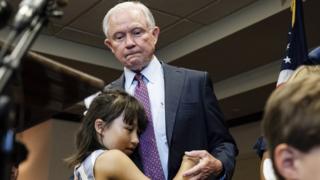 Former Attorney General Jeff Sessions has lost his bid to run for the Senate after a candidate backed by President Donald Trump defeated him in Alabama.
Tommy Tuberville, a former football coach, will face incumbent, Democrat Doug Jones, in November's election.
Mr Sessions was the first senator to back Mr Trump as president, but their relationship soured and he was forced out as attorney general in 2018.
Conceding defeat, he said he had no regrets over the decisions he had made.
He told his supporters he "did the right thing" in recusing himself from investigations into allegations of Russian interference in the 2016 election – a move his boss never forgave him for.
Primaries were also held in Maine and Texas on Tuesday.
Democrats in Maine chose the speaker of the state's house of representatives, Sara Gideon, as their candidate to take on Republican Senator Susan Collins in November
In Texas, Democrats narrowly voted for former Air Force helicopter pilot MJ Hegar over Royce West, who was hoping to become the state's first black senator
Who is Trump's candidate in Alabama?
Mr Trump tweeted his delight at Tuesday's result, saying Tommy Tuberville had "WON big" and would make "a GREAT Senator".
Mr Tuberville, 65, was a football coach at multiple US colleges for decades before retiring in 2016 as one of the top 50 most-winning coaches of all time.
An outspoken conservative and Trump supporter, he has made appearances on Fox News and was among those calling for Barack Obama to release his birth certificate when some questioned his qualification to run for president.
Mr Tuberville told his supporters that Mr Trump had called to congratulate him and added that he considered him to be "the best president in my lifetime", Reuters reports.