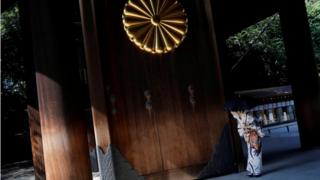 Japan's prime minister has promised to "never repeat the tragedy of war" on the 75th anniversary of his country's surrender in World War Two.
"We will continue to remain committed to this resolute pledge," Shinzo Abe said on Saturday.
He marked the occasion by sending an offering to a controversial war shrine in Tokyo, but did not attend in person.
However, four ministers did visit the Yasukuni Shrine, in a move that is likely to anger China and South Korea.
It is the first time in four years such senior politicians have attended the shrine, which pays homage to a number of senior figures convicted of war crimes, as well as the country's war dead.
"I paid respects… to the souls of those who nobly sacrificed themselves during the war," Education Minister Koichi Hagiuda explained to reporters.
South Korea's President Moon Jae-in did not mention the visits in remarks made on Saturday. President Moon instead used the occasion – known as Liberation Day in South Korea – to say his government was prepared to sit down for face to face talks over historical disputes at any time.
Seoul and Tokyo are divided over compensation demands for Koreans forced to work under the Japanese occupation, which began in 1910 and ended in 1945.
---