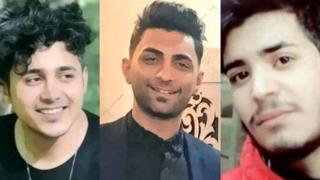 Iran has halted the executions of three men who were sentenced to death over anti-government protests last year, according to one of their lawyers.
Babak Paknia told reporters that a request for a retrial had been accepted by the supreme court.
The decision comes after a hashtag against their execution was used millions of times online.
UN experts say the men confessed under tortureand were subjected to "unfair trials".
Amirhossein Moradi, Mohammad Rajabi and Saeed Tamjidi – who are reported to be in their 20s – were among thousands of protesters across Iran who took to the streets in November against the government's decision to raise the price of petrol.
The three men were sentenced to death earlier this year, but it was the supreme court's decision to uphold the sentence earlier this week t