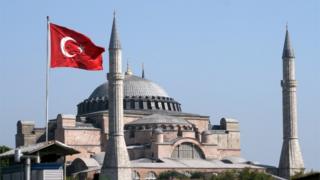 Turkey's President Recep Tayyip Erdogan has signed a decree converting Hagia Sophia in Istanbul – founded as a cathedral – into a mosque.
Earlier Turkey's top administrative court annulled the museum status of the world-famous cultural site.
Founded 1,500 years-ago as a cathedral, the Ottomans made Hagia Sophia a mosque. But in 1934 it became a museum.
It is a Unesco World Heritage site. Unesco urged Turkey not to change its status without discussion.
Islamists in Turkey have long called for it to be converted to a mosque, but secular opposition members have opposed the move. The proposal has prompted criticism, from religious and political leaders worldwide.
The head of the Eastern Orthodox Church has condemned the proposal, as has Greece – home to many millions of Orthodox followers.
"The nationalism displayed by President Erdogan… takes his country back six centuries," Culture Minister Lina Mendoni said in a statement.
The court ruling "absolutely confirms that there is no independent justice" in Turkey, she added.
Mr Erdogan's decree hands control of the Ayasofya Mosque, as it is known in Turkish, to Turkey's religious directorate, to reopen it for worship.
Modern Turkey's founder Mustafa Kemal Ataturk approved Hagia Sophia's status as a museum in 1934, and since then it has been a symbol of secularism, open to all faiths.
But the Council of State, Turkey's top administrative court, said in its ruling on