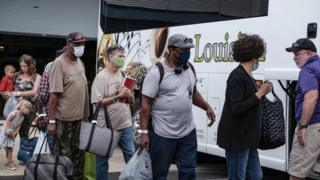 Hurricane Laura is expected to cause a catastrophic storm surge, extreme winds and flash floods as it hits the US, the National Hurricane Center (NHC) says.
Laura is currently a Category 3 storm and is due to strengthen to Category 4 before reaching Texas and Louisiana later on Wednesday.
The NHC warned local residents to "rush" to complete preparations.
Half a million have been told to leave. Laura and another storm Marco earlier hit the Caribbean killing 24.
Marco has already struck Louisiana, bringing strong winds and heavy rain on Monday.
Initiallyit was feared that both storms would hit Louisiana as hurricanes with 48 hours of each other– an unprecedented event – but Marco was downgraded to a tropical storm.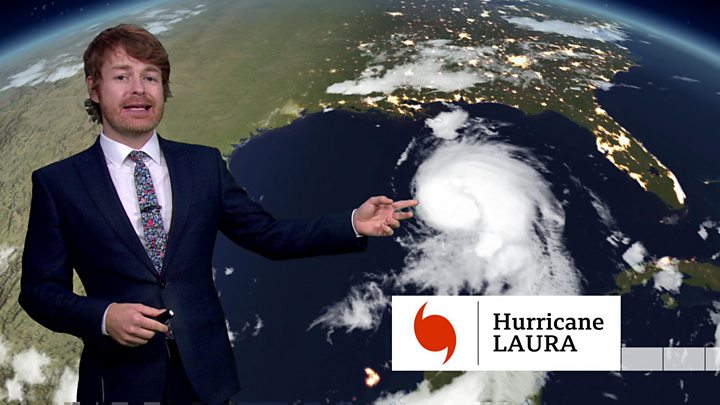 Laura, on the other hand, has strengthened rapidly to a Category 3, gaining 70% in power in just 24 hours.
Evacuations are complicated by the Covid-19 pandemic. Texas Governor Greg Abbott urged families who could afford it to take refuge in hotels and motels to be distanced from others.
What can we expect from Hurricane Laura?
Early on Wednesday the NHC said satellite images had shown that Laura had undergone a remarkable intensification to become a "formidable hurricane".
In a series of tweets, it said Laura was expected to bring "life-threatening hazards" and an "unsurvivable storm surge" to parts of the coast of the Gulf of Mexico.
Well-built homes could incur major damage, trees could be snapped or uprooted and electricity and water would be unavailable for days or even weeks, it said.
"Hurricane force winds and widespread damaging wind gusts will also spread well inland into portions of eastern Texas and western Louisiana