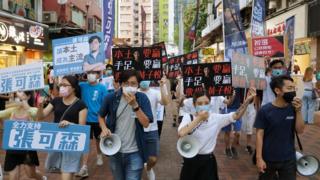 Hundreds of thousands of people in Hong Kong have voted in pro-democracy primaries, despite warnings that doing so may breach a new security law.
The two-day vote will determine the opposition candidates for September's elections to the legislative council.
But it is being widely viewed as a test of opposition to the controversial new law that took effect last month.
The law, which gives the Chinese state new powers over the city, drew widespread international condemnation.
China has said the law is necessary to prevent the type of protests seen in Hong Kong during much of 2019, but its critics say it severely curtails freedoms guaranteed to Hongkongers for 50 years after British rule ended in Hong Kong in 1997.
On Sunday, thousands of voters queued for a second day at more than 250 polling stations around the city. Opposition activists had hoped for a high turnout, and early estimates suggested that it had exceeded their expectations.
Organisers set a target of 170,000 voters across the weekend, but officials said more than 500,000 people had taken part as of Sunday afternoon.
The voters turned out despite one senior Chinese official suggesting last week that participation in the primary could breach the new security