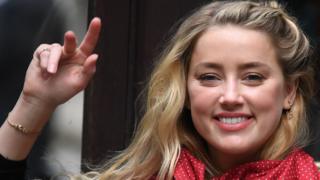 Johnny Depp is "generous" and "loving" when sober but the "other side of him was a monster", actress Amber Heard has told the High Court in London.
Ms Heard said she had been "so in love" with her former husband and had "always held out hope" he would get clean.
But in a text to her mother, she said he was "violent and crazy" and she was "heartbroken that this is who I love".
Mr Depp, 57, is suing the publisher of the Sun over an article that labelled him a "wife beater".
The newspaper insists it was accurate.
Ms Heard was questioned by Sasha Wass, representing the Sun's publisher, News Group Newspapers (NGN).
Ms Wass read out text messages the Aquaman actress sent to her mother, Paige, on 22 and 23 March 2013.
In her first witness statement, Ms Heard claimed that in March 2013, Mr Depp hit her with the back of his hand, which caused her blood to hit the wall, after an argument about a painting by her ex-partner Tasya van Ree. He denies this.
The actress initially said the incident took place on 8 March 2013, but told the court she now considers the correct date of the "painting incident" to be 22 March 2013.
Ms Wass told the court that in one text to her mother, Ms Heard wrote: "It's terrible, mum. I don't know what to do."
Another read: "He's nuts, mum. Violent and crazy. I'm heartbroken that this is who I love."
In a third, she wrote: "I feel like I'm on a very fast train that's about to explode, but I don't want to jump off and leave my love behind.
"So I stay on the train, even though I know it's about to explode."
Ms Heard then told the court: "I was so in love with Johnny at that time. We had had a wonderful year together where he was sober and clean and that is how I got to know him.
"And Johnny, when he was like that, (is) generous, loving, he is a remarkable man when he is like that.
"I loved him and I didn't want to lose that… the other side of him was a monster, but I always held out hope that he would get clean and sober."
As she read out the messages, Ms Wass told the court Ms Heard's mother had suggested she informed her father, to which