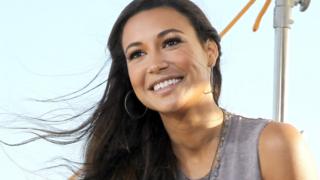 Tributes have been paid to actress Naya Rivera, whose death has been confirmed by US police.
The 33-year-old, best known for playing Santana Lopez on Glee, had gone missing during a boat trip in California.
After a long search, divers found her body on Monday, prompting an outpouring of love and sympathy from her co-stars.
"She was so independent and strong and the idea of her not being here is something I cannot comprehend,"wrote Glee actor Kevin McHale on Twitter.
"She was the single most quick-witted person I've ever met, with a steel-trap memory that could recall the most forgettable conversations from a decade ago.
"She was the most talented person I've ever known and I'm furious we won't get to see more."
"Rest sweet, Naya. What a force you were. Love and peace to your family," added Jane Lynch, who played coach Sue Sylvester on the show.
Many of her former cast-mates gathered at the bank of Lake Piru, near Los Angeles, to pay their respects.
Chris Colfer, who played Kurt Hummel in the teen comedy,shared a photo of himself with Rivera on Instagram.
"How can you convey all your love and respect for someone in one post?" he wrote in the caption.
"How can you summarise a decade of friendship and laughter with words alone?
"If you were friends with Naya Rivera, you simply can't. Her brilliance and humour were unmatched. Her beauty and talent were otherworldly."
Darren Criss, who played Blaine Anderson, remembered the star's generosity.
"I was constantly moved by the degree to which she took care of her family, and how she looked out for her friends,"he wrote.
"She showed up for me on numerous occasions where she didn't have to, and I was always so grateful for her friendship then, as I certainly am now."
Fan tributes
Rivera was first reported missing last week, after she rented a pontoon boat with her four-year-old son.
He was found alone and asleep in the boat and later told police his mother had never returned after swimming in the lake.
Speaking at a news conference on Monday, Ventura County Sheriff William Ayub said a body had been found near the surface of the water in the north eastern section of the lake.
Police were "confident" they had found Rivera, based on location, clothing and physical characteristics. An autopsy and dental records will be used to confirm her identity. There were no