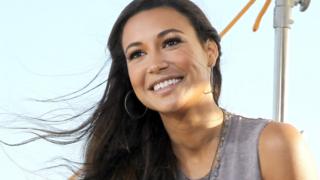 Actress Naya Rivera died of accidental drowning, officials in California have said after a post-mortem examination.
"The cause of death is drowning, and the manner of death is accident,"the Ventura County's Medical Examiner said.
The 33-year-old, best known for playing cheerleader Santana Lopez in Glee, went missing during last Wednesday's boat trip with her son at Lake Piru.
After a long search, divers found her body on Monday, prompting an outpouring of love and sympathy from her co-stars.
Rivera was first reported missing last Wednesday, after she had rented a pontoon boat with her four-year-old son at Lake Piru, north-west of Los Angeles. The child was found alone and asleep in the boat and later told police his mother had never returned after swimming in the lake.
Her body was found exactly seven years after Rivera's Glee co-star, Cory Monteith, was found dead in a Vancouver hotel room of an overdose of heroin and alcohol.
Glee, the musical comedy TV series, ran on the Fox network from 2009 to 2015.
What did the Medical Examiner say?
In a statement posted on Twitter, the Ventura County's Medical Examiner said that Rivera's bod