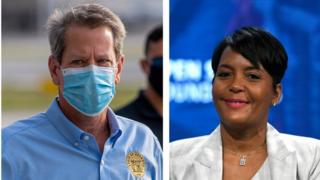 The governor of Georgia is suing Atlanta authorities to prevent the US city from enforcing its requirement to wear masks in public, along with other coronavirus-related restrictions.
Governor Brian Kemp said Atlanta's Mayor Keisha Lance Bottoms lacked the authority to implement the rule.
Mr Kemp signed an executive order earlier this week voiding mask mandates across the state.
But Ms Bottoms said this would not stop Atlanta from enforcing its ordinance.
America continues to remain at the epicentre of the global pandemic, with more than 70,000 new cases reported on Thursday – a record daily jump in known infections.
The majority of state governors have now ordered that the wearing of masks outdoors be mandatory, rather than a personal choice. Among them are Republican governors, including Kay Ivey of Alabama, who have reversed their initial opposition to the mandates.
Why is Georgia filing a lawsuit?
Georgia's governor has sought to bar any mandatory requirements for face masks in public places, suggesting it should be a personal choice instead.
But officials in several Georgi