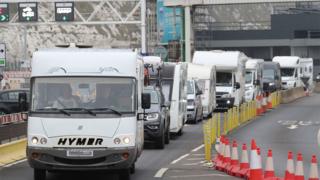 Thousands of British holidaymakers have made a last-minute dash to get home before a 14-day quarantine requirement came into force for people arriving from France.
The isolation measure also applies to the Netherlands, Monaco, Malta, Turks and Caicos, and Aruba, amid concerns about a rising numbers of Covid cases.
Eurotunnel trains sold out and air fares were up to six times more than normal, but ferries increased capacity.
France warned of "reciprocal measures".
The Netherlandsadvised against all but essential travel to the UKonce the restrictions came into force on Saturday, but said it would not introduce reciprocal measures.
The countries were targeted for quarantine restrictions because their infections rates exceeded 20 cases per 100,000 people over seven days, Transport Secretary Grant Shapps said.
There were reported to be about 160,000 British holidaymakers in France when the changes were announced, and the deadline left many travellers in a frantic rush for plane, train or ferry tickets costing hundreds of pounds.
Kim Wells and his family were on one of the last ferries to arrive in the UK before the quarantine measures began – getting in to Newhaven from Dieppe in northern France with eight minutes to spare.
He told BBC Radio 4's Today programme he had a "pretty fraught 40 minutes" online after hearing of the restrictions through a BBC News alert.
"I ended up booking a ferry on a pretty unfashionable route… it was impossible to get back on Eurotunnel, which was the way we went to France originally," he said.
Mr Wells is a teacher and his wife is a local government worker. They felt they should cut their holiday short to avoid having to quarantine as they are key workers.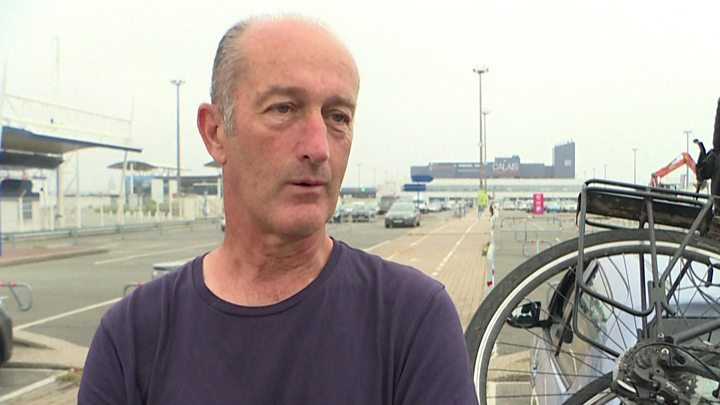 Mr Wells said he was frustrated by the short notice the government had given for the rule change, adding: "I completely understand the decision, but I think 30 hours' notice and announcing it at 11 o'clock in the evening French time… was pretty unrealistic.
"I don't really understand why they can't be a little bit more clear with the public about what the tipping point is, when we might perhaps be approaching the need to quarantine. Why not 48 or even 72 [hours] just to allow those who need to or want to get home, get home without rushing dangerously."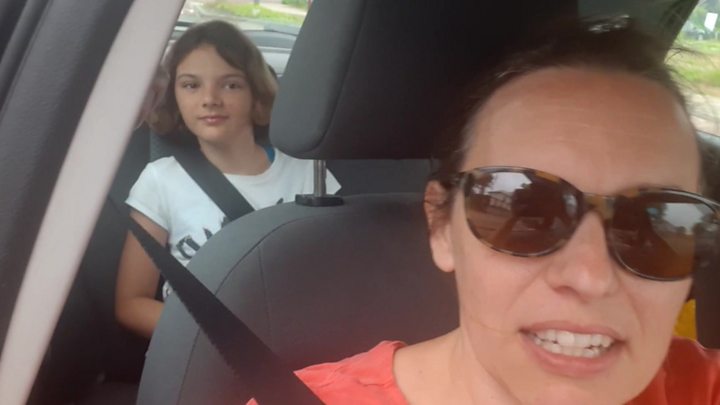 Kate Mooney and her family arrived back at their home in Cornwall at about 01:00 BST after ending their holiday to France a week early.
"Our immediate response was 'let's just stay and finish our holiday', and then we started to really consider what quarantine meant," she told BBC Breakfast.
"There would be no way we could leave the house… that's when we decided we would come back."
Tom Duffell, who runs a small business and ended his family holiday in Nice four days early, told the BBC that social distancing had "gone out of the window" in the scramble for transport, with "huge queues" at the airport.
Eurotunnel, which increased its capacity, said 12,000 people had tried to book tickets for its Channel Tunnel trains in the hour after the new rules were announced – at about 22:00 BST on Thursday – compared with just hundreds normally.
It carried more than 30,000 passengers in the run-up to the deadline. Additional staff were sent to the terminals to allow 11,600 vehicles to quickly load its shuttles throughout Friday.
P&O Ferries and DFDS Ferries also added an extra four departures.
Meanwhile, a group of musicians from Scotland found a creative way to beat the deadline with just 10 minutes to spare – b