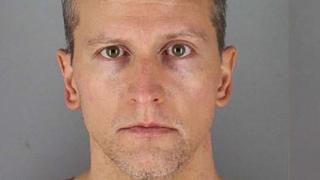 The former Minneapolis police officer accused of murdering African-American man George Floyd has been charged with multiple felony counts of tax evasion.
Mr Chauvin and his wife are accused of failing to report income from various jobs, and allegedly owe nearly $38,000 (£30,000) to the state of Minnesota.
The officer was filmed pressing his knee on Mr Floyd's neck for almost nine minutes before he died in May.
It sparked global protests and calls for police reform.
Mr Chauvin was fired from his job and now faces charges of second-degree murder and manslaughter. Three other officers were also fired and charged with aiding and abetting murder.
Mr Chauvin and his estranged wife, Kellie Chauvin, were each charged in Washington County on Wednesday with six counts of aiding and abetting fi