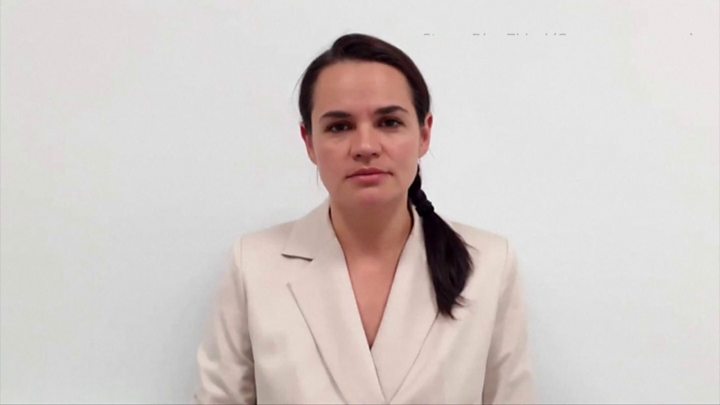 Belarus opposition leader Svetlana Tikhanovskaya has called for peaceful rallies across the country, after she was forced to leave for Lithuania in the wake of a disputed election.
"Don't stay on the sidelines," she said, proposing a broad council to work on the transfer of power.
Alexander Lukashenko has ruled Belarus since 1994 but Sunday's presidential vote was condemned by the EU and US.
Thousands of Belarusians have been protesting, urging Lukashenko to quit.
Some 6,700 people were arrested in the wake of the election, and many have spoken of torture at the hands of the security services.
Accounts have emerged since authorities began releasing detainees, including from the notorious Okrestina detention centre in Minsk, and Amnesty International said detainees' stories suggested "widespread torture".
Ms Tikhanovskaya was held for seven hours herself on Monday night, when she went to register a complaint about the election, before she was forced into exile.
As protests went into a sixth day and walkouts from state factories grew, EU foreign ministers considered imposing new sanctions on Belarus during an emergency meeting on Friday.
Neighbouring Poland promised to loosen visa restrictions to help support civil society.
Announcing final results, the Central Election Commission said Mr Lukashenko had won 80.1% of the vote and Ms Tikhanovskaya 10.12%, state media said. She insisted that where votes had been properly counted she had won support ranging from 60% to 70% and called on mayors to organise "peaceful mass gatherings" on Saturday and Sunday.
'I begged him to stop but he continued'
By Abdujalil Abdurasulov, BBC News, Minsk
Sergiy was detained on Monday. Riot police threw him into a police van and started torturing him.
They kept asking who the organiser was and each time when he said that there was no such a person, they electrocuted him with a stun gun. For every word he tried to say, they beat him with batons in response.
"The scariest part was that these people knew no limits," he said.
"You understand you're totally without any rights, that they could do anything they wanted. The pain was unbearable and I begged him to stop but he continued."
After hours of torture, Sergiy could barely breathe. Officers called an ambulance and sent him to hospital. Otherwise he might not have survived the notorious Okrestina detention centre.
Many have faced more vicious beatings and the mistreatment of detainees remaining in prisons continues. Volunteers outside the detention centre in Minsk on Friday asked us to be quiet and urged people not to clap and chant to support the detainees. They say that otherwise those who remain behind the prison walls will get beaten in revenge.
Prisoners continued to leave Okrestina on Friday, revealing their bruised and swollen bodies.
"T