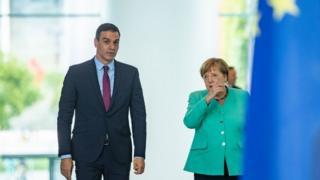 EU leaders meet on Friday for the first face-to-face summit since the coronavirus crisis, with low expectations of a deal on a €750bn (£670bn) post-Covid stimulus package.
The main issue is how much of the recovery fund will be handed out in grants and how much in loans.
They also need to agree on a seven-year budget worth another €1.07 trillion.
German Chancellor Angela Merkel warned ahead of the summit that "the positions are still far apart".
The Brussels meeting is due to continue on Saturday but EU leaders may need longer to reach a deal. A French official said an agreement this weekend was possible but certainly needed to be wrapped up by the end of the summer.
Why is the fund so tricky?
Southern states including Italy and Spain want an urgent decision "not weakened by a lesser compromise", in the words of Italian Prime Minister Giuseppe Conte. They need to revive economies battered by a devastating pandemic that claimed 35,000 lives in Italy and a further 28,400 in Spain.
The Frankfurt-based European Central Bank has already forecast an 8.7% slump in the eurozone economy this year because of the pandemic. But economies that only recently pulled out of a financial crisis want grants rather than taking on further debt.
The recovery plan, backed by France and Germany, for €500bn in grants and €250bn in loans, is being resisted by several "frugal" Northern European countries, led by the Netherlands.
The EU recovery fund is already controversial as the money would be borrowed on the financial markets, to be paid back some time after 2027. It's made up of a number of different instruments, but the biggest part of it would be geared to supporting green and digital investment and reform. Some 30% of the funding could be tied to climate projects.
The frugal states, which include Austria, Sweden, Denmark and to some degree F