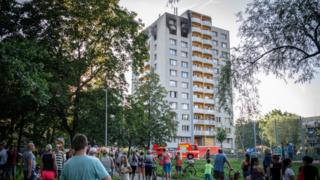 Police in the Czech Republic are investigating a fire that killed 11 people, including three children.
Saturday's blaze, in a block of flats in the north-eastern town of Bohumin, has been described as the worst fire in the country's history.
Six people died in the blaze and another five were killed after jumping from an 11th floor balcony in an attempt to escape the flames.
Ten people, including two firemen and a police officer, were injured.
Bohumin is on the Czech-Polish border, some 300km (190 miles) east of the capital, Prague.
The governor of the Moravia-Silesia regio