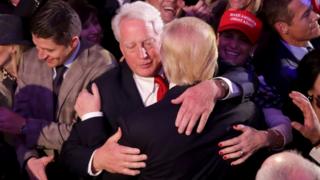 President Donald Trump has paid tribute to his "best friend" and youngest brother following his death at 71.
"It is with [a] heavy heart I share that my wonderful brother, Robert, peacefully passed away tonight," he said in a statement on Saturday.
The president had visited his brother in hospital in New York the day before his death, telling reporters: "He's having a hard time."
It is unclear what caused Robert Trump's death.
A number of US media reports suggested he had been seriously ill.
"He was not just my brother, he was my best friend," Donald Trump said in a statement on Saturday. "His memory will live on in my heart forever."
President Trump's son Eric described his uncle as an "incredible man – strong, kind and loyal to the